When you are designing the interior of your house, windows surely play a very significant role in enhancing the overall look. Window glass design is one of the important factors to focus on while designing your home. There are various glass types available that can be used for windows and this might make it even hard to make a right choice. However, there are some common glass types which are most preferred in Indian homes for designing windows. In this article we are going to go through some of the commonly preferred window glass types for Indian homes.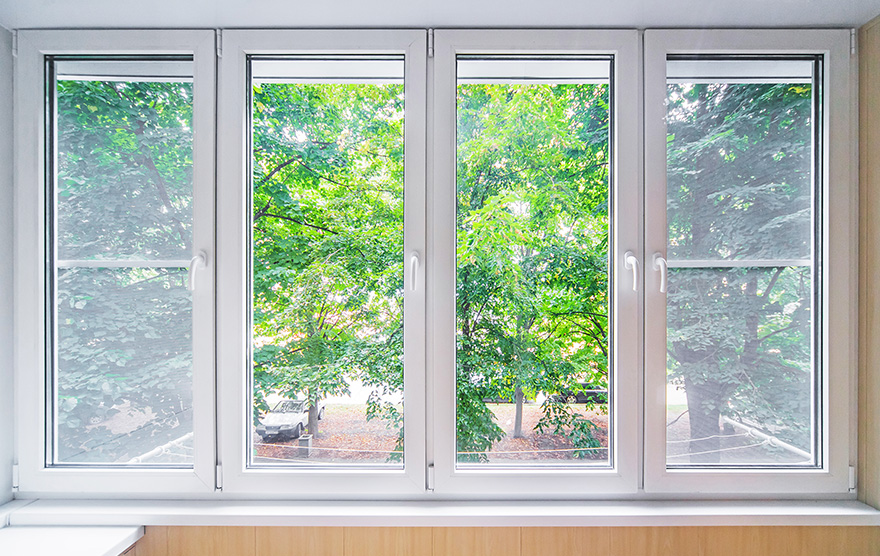 Toughened Glass

Toughened glass, or tempered glass as it is commonly known is an impact resistant glass that can take high impact and does not break easily. Also when this type of glass breaks, it usually breaks into many tiny pieces which has a low risk of causing injury, which makes the glass much safer than a normal glass. So as far as safety is concerned, tempered glass is a great choice for your home windows.

Clear float Glass

Clear float glass is also widely used for windows in Indian homes given its superior light transmission and optical clarity. This is a basic type of glass which is used for windows in domestic housing. This clear float glass can be further fabricated into laminated insulated, Low E, reflective, or coated glass. Clear float glass is also widely used in automobiles, tabletops, mirrors, and windows.

Tinted Glass

Tinted glass helps to keep the direct sunlight out and reduces the brightness of light that will keep the atmosphere in the room pleasant. This type of glass is suitable for homes in places with extreme heat conditions. You can get tinted glass in different colours that you can choose to best suit your interior. Such window glass is however not suitable for places where you need more light to come in.

Stained Glass

Stained glass is popularly used in places like museums, churches, and similar other places where you need just the right amount to come in but also want to ensure that the privacy is maintained. You can see these types of window glasses mostly in old buildings and are usually used for aesthetic purposes. It gives an attractive look to your home windows and makes them look different from others.

Reflective Glass

With a mirror-like reflective coating, the reflective glass reflects heat. The glass prevents heat loss from indoors and heat gain from outdoors. While this glas can be very well used for home windows, it is more widely used for exteriors.

Insulated Glass

This type of glass is most commonly used in homes in cold regions where heat retention inside the house is important. The insulated glass has two or more tightly bound sheets that provides the best energy efficiency and helps to keep the house warmer during winters and cooler during summers. The glass also has sound insulation so that your privacy is maintained.

Laminated Glass

Laminated glass is another good option in window glass types. This glass is pretty flexible and gives UV resistance. Laminated glass can be made into different types like bulletproof glass, blast proof glass, etc. to best suit your needs. This glass is quite tough and can withstand heavy explosions. This helps to provide safety to your home and prevents burglars from entering the house.

Textured Glass

Textured glass is designed by embossing patterns or decorative designs on molten glass. It has a translucent surface which gives you complete privacy. This type of glass is usually used in bathroom windows. The glass allows just the right amount of light to pass and is considered suitable for shower cubicles.

Low E Glass

Low E or Low emission glass is a glass that is designed to block harmful UV rays that cause skin damage. By doing so, this glass provides complete safety and comfort. Using such glass for your home windows will also protect your furniture and cloth fabric from fading away.

Thermal Glass

Double glazing glass offers a high thermal performance that makes it an excellent choice for energy efficiency and comfort. It consists of two sandwiched layers of glass that have a layer of gas in between. This type of glass can reflect the infrared heat away during summers and retains the heat during winters, which makes it an ideal glass for your home windows all year around.
All of the above window glass types are typically used in Indian homes. The type of glass you go for in window glass design will mostly depend on your and your family's needs. Depending upon the price, safety nature, and other factors like heat protection, your choice of window glass can differ. It is necessary that you take your specific needs and requirements into consideration while choosing the right glass for your home window.