A little thought towards what goes in the windows can go a long way when it comes to building sustainable and comforting commercial or office spaces. If you have often felt like drawing the curtains during the daytime to reduce the amount of light pouring in but don't want to darken the room, then you might want to read and acquire some information about green tinted glass.
So before you decide on the material and design of your glass windows, take some time to see you've zeroed in on the most energy-efficient, affordable and best-suited glass for your space.
If you are having second thoughts about green tinted glasses, then skim through the list of advantages attached below to know why they have an edge over other alternatives.
Benefits of green-tinted glass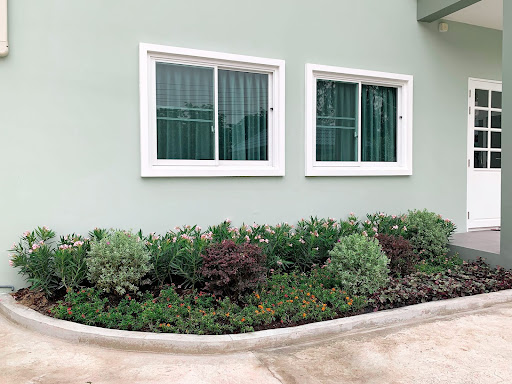 Made by adding a small amount of metal oxide, tinted glass can not only enhance the look and feel of any space but also provide the following benefits:
Energy Efficiency

Do you know your electricity bill can vary depending on the quality of your doors and windows? The answer is yes and tinted glasses can prove to be a great help in lowering these bills. The green-tinted glass helps by lowering the heat gain and traps the warm or cool air and prevents it from escaping. This helps in better regulation of temperature so appliances like heaters or air conditioners don't overwork and lead to an increase in power consumption.

Sun Protection

Certain rays of the sun can prove to be harmful and these UV rays can even cause skin cancer if you are left exposed for a significant amount of time. Green tinted glass acts as a layer of protection and prevents these UV rays from entering your house so you can enjoy the sunlight during the morning without any concerns. Research shows that it can block 99% of the ultraviolet radiation and has SPF 1000 which enables it to protect you and your family from the harmful rays of the sun.

Improved Security

These tinted glasses are made from premium quality material so they aren't easy to break and are quite durable. The glass has a shatterproof film to prevent easy break-ins and shattering of the glass. Their sturdy build ensures enhanced security and deters the intruders from easily breaking in or peeping inside your house in your absence.

Low maintenance

Most of us have a full-time job or plenty of chores so we don't have time to spend hours cleaning and wiping the windows to make them squeaky clean. Green tinted glasses can prove to be a blessing in disguise as these are very low-maintenance and scratch-resistant. All you need to invest in is a simple cleaning agent and a good wipe and you will be ready to flaunt your pretty windows to your guests!

Increased Privacy

The most important thing that tinted glasses offer is privacy. These glasses can be a perfect fit for restrooms, homes, meeting rooms or bedrooms. They don't allow outsiders to see what's going inside and help you keep things under wraps. The fact that they can manage this while looking beautiful acts like a cherry on the cake!

Reducing Glare in the room

Another reason why green tinted glasses can be a good choice is that they help reduce the temperature as well as the glare that is eliminated by excessive lights. This reduction in the glare can create a soothing ambience and help you focus and work for longer hours without any strain or headaches.

Consistent climate

The green tinted glass also helps in keeping the temperature in check and can even reject solar heat (it can reject 35% to 65% of the heat depending on the film). This allows you to regulate the temperature of the room more efficiently without putting a load on the heater or the air conditioner.

Pleasing appearance

The last benefit that we would like to list is that these green tinted glasses are pleasing to the eye and have an attractive appearance. These not only help in saving energy but also enhance the feel and look of the space without costing a fortune. They add a modern touch to your place and make it look more spacious and bright.
Now that you have tons of reasons to invest in green tinted glasses and install them in your window panes, don't delay and start choosing the best ones for your home or office! Go ahead and pick your favourite designs from the AIS Glass as we offer premium quality glasses
that will last for years to come. So, put your trust in our products and get ready to beautify your home and office space like never before!