Your home is a reflection of your personality, and there's absolutely no way you should compromise on décor while building the perfect abode. Using back painted glasses is the ideal way to add colour to your home, while also maintaining your aesthetic.
Advantages of using back painted glasses in your interiors!
Back painted glasses offer a broad range of advantages:
Durability: Our high-quality back painted glasses range in width from 4-6-mm, which means that they provide the perfect opacity, while also being durable. This means that you don't have to worry about the glass breaking due to a mishap.
Low maintenance: When you paint a wall to add colours to your interiors, you fall into the trap of regular upkeeps. This isn't the case when you use back painted glasses as they look as good as new forever. These glass walls do not get stained or faded, which means that you don't need to spend time and effort to maintain their sheen.
Easy to clean: Glass is incredibly easy to clean – all you need is a cleaning solution and a cloth to get the job done. On the other hand, once a wall's marred with dirt, you've got no choice but to re-paint.
How can you use our back painted glasses to make your interiors pop?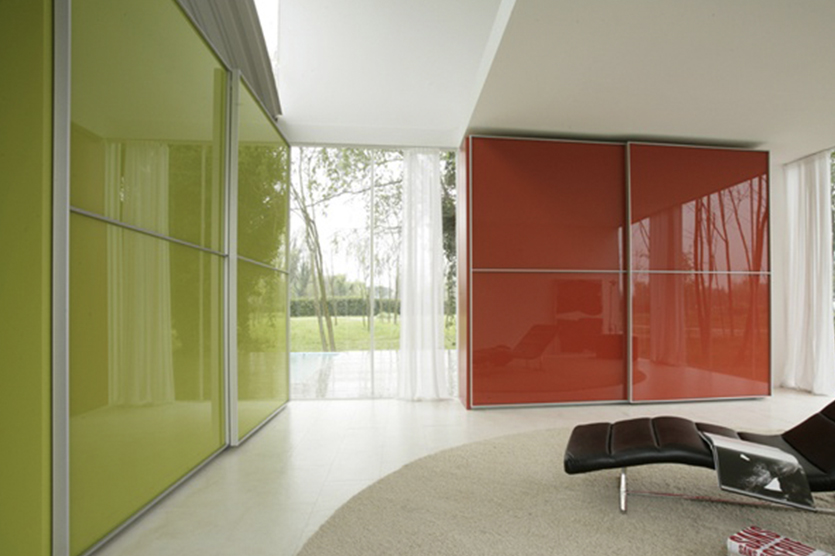 Whether you're remodelling your old home or are constructing a new home, back painted glass can be the perfect way to breathe life into your home decor. Not sure how back painted glasses can fit in with every décor style? Here are a few suggestions that show you how versatile our collection is!
Minimalist Décor
Minimalism is all about the subtleties. The idea is to have a few elements of decor that stand out, rather than using many different pieces. When it comes to the colour palette, minimalist decor uses neutrals and pastels.
A great way to draw attention to a specific part of your home is by adding colour. Back painted glasses can be the perfect backdrop to a minimalist living room. Be sure to pick light pastels like mint green, coral, powder blue, light grey, custard yellow and so on. This way, the wall of colour won't look out of place.
So, make sure you choose from our serene series to add just the right splash of colour without overpowering the rest of your home.
Rustic Décor
Rustic décor celebrates nature, with décor pieces that are a bit rough-around-the-edges. If you're wondering what back painted glasses can fit into your rustic living room, then look no further than earth tones. Deep browns, greens, and terracotta are the right colours for you. Mix in fabrics like jute, wool and pure cotton to create a home that's incredibly cosy.
Have a look at our Earthy collection to find the perfect shade!
Retro/Mid-century Décor
Both retro and mid-century styles do not shy away from vibrant colours. There is a fair amount of overlap in both their palettes, however one way to truly know which way your style leans is by asking yourself whether most of your furniture has clean contemporary lines (often a hallmark of mid-century decor) or fluid lines.
Based on your furniture and upholstery, you can pick suitable back painted glasses from our Vibrant Series. Pick a fun colour like sparkling coral for a home that's totally unmatched.
Neo-Glam
Finally, if your style is heavily influenced by Instagram, then you're probably looking to go for a neo-glam aesthetic. This aesthetic celebrates luxury above all else, and there's a thin line between neo-glam and gaudy so you've got to be really careful with the items you pick.
Neo-glam is all about metallic décor, so go in for a statement gold or silver wall that's made of back painted glass. Offset the wall with a chesterfield couch in a muted shade so that the two work in tandem to make your living room even more enviable!
As you can see, using back painted glasses to amplify your decor is quite simple. All you need to do is select colours that highlight your style, rather than simply playing it safe.
Remember that back painted glasses can even be used to create partitions between rooms or to section-off a particular area in your home. Another great application would be to create a back painted glass wall in your children's room, and let them enjoy having a wall they can draw on. The bottom line is that you really can get quite creative with your decor and overall floor plan.
At AIS Limited, we offer 34 stunning shades of back painted glasses for you to choose from. So bid those dull walls goodbye, and say hello to a home that truly reflects who you are.