If you recently bought your dream home or are simply planning to renovate your home for a refreshing look, then this article might help you decide how to enhance the looks of your balcony. We all love relaxing in a quiet, refreshing nook in our house where we can spend some quality time and having a well-designed balcony can fulfil that purpose like none other.
So to make sure your balcony can be modern, sophisticated and unique, we have compiled together some interesting glass design ideas that are not only practical but also pleasing to the eyes!
Are glass balconies safe?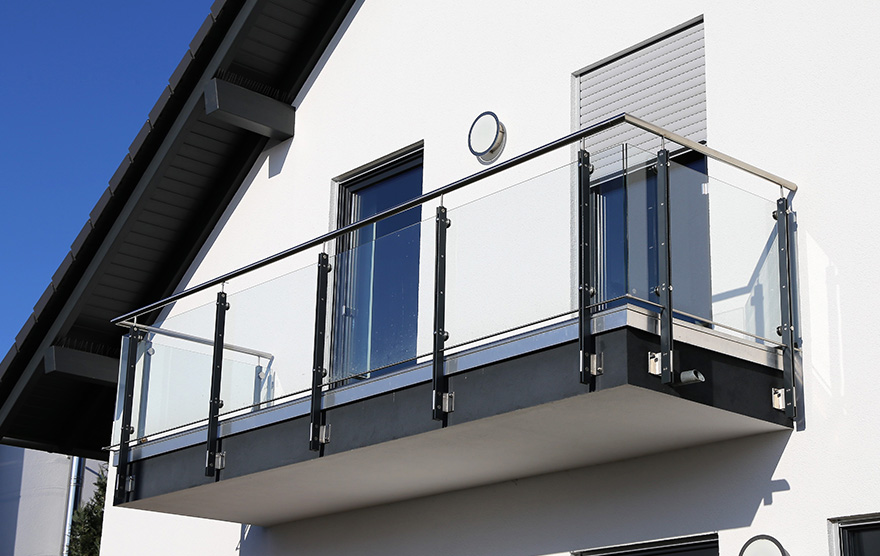 If you are hesitant about investing in glass balcony design due to safety concerns, then you can leave those worries behind as the rapid progress in technology has resulted in several useful inventions like toughened glass for balconies which can not only handle the extreme weather conditions and won't be damaged so easily.
All you need to do is purchase them from reliable brands like AIS as they make sure that the glass is manufactured as per international standards and are durable enough to stay undamaged for a longer duration.
In the modern world, glass has emerged as one of the top choices when it comes to renovation and construction as it can be used in creating walkways, staircases, fenestrations, facades and much more using different kinds of glass (like toughened glass for balcony)
Unique Glass Designs
Here are some glass designs you can install in your balcony to make it stand apart and create a minimalistic yet elegant space for yourself.
Acoustic Glass

Don't be fooled by the looks of the acoustic (laminated) glass as it might look fragile but is quite sturdy, thereby making it a good choice. It features a PVB interlayer that contributes to the glass that helps in reducing external noise. A laminated glass railing goes well with all kinds of interiors, so it will add a minimalistic yet sophisticated touch to your home's exterior without any trouble. Last but not least, it eliminates the need for installing additional grills or shutters, as the glass itself is quite strong and can handle heavy impact. If you want to invest in something more durable then you can opt for heat-strengthened laminated glass which offers higher stability and eliminates the need for grills and shutters.

Insulated Glass

Yet another toughened glass for the balcony is the insulated glass. It can include two or more panels that are separated by air, aluminium or other types of spaces around the edges. The perimeter is sealed to make sure it doesn't break off easily while the drying agent eliminates moisture in the cavity, thereby making it even more strong. This composition also makes it an energy-efficient solution so you can also use it in windows or the wider panels on the balcony and reduce your electricity bills. Insulated glass made by companies like AIS Glass (AIS IGU) can also block harmful UV rays and increase wind load strength. The insulated glass made in this manner is quite durable and won't be easily damaged, thereby saving you from the trouble of replacing it time and again.

Tempered Glass

Tempered or toughened glass for a balcony is recommended by most experts as it beautifully combines looks and strength so that you can enjoy panoramic views without worrying about the safety of your loved ones. You can couple high-tempered glass with steel borders or railings and make sure your balcony looks attractive without increasing the risk of impact-related breakage.

Tinted Glass

If you live in an area where the sun's usually harsh then you might want to invest in tinted glass. It not only adds a layer of privacy but also proves to be effective in blocking the sun's heat, thereby helping in lowering the room's temperature without compromising on aesthetics. The best part about tinted glass is that you can add a hint of colour and make your balcony a little more lively by investing in shades of grey, bronze, blue, green and uniquely designing your balcony!

Frosted Glass

Yet another glass design that can instantly enhance the style and looks of your balcony is frosted glass. It is popular since it gives you greater privacy while admitting light which means you are obscured from the public eye as you admire the clear skies and rejuvenate on your balcony. Frosted glass is made using superior glass manufacturing techniques and is also available in shades like green blue and bronze which helps in adding a personal touch to your balcony in no time!

Reflective Glass

Reflective glass has gained popularity due to its unique design which is not only appealing to the eyes but also quite effective in ensuring the privacy of the people inside and keeping the heat at bay. Companies like Asahi India Glass Ltd, manufacture these glasses using superior coating technology which when combined with its brilliant aesthetics, results in an energy-efficient solution that is not only pleasing to the eye but also regulates the temperatures to some extent.
Now that you have a better idea about the kinds of glass that can adorn your balcony, it's time to get in touch with trusted glass manufacturers like AIS and make your balcony stand out. These toughened glass for the balcony are not only durable but also easy to maintain (if bought from a genuine glass manufacturer) so you won't have a hard time making your balcony presentable!