Privacy glass is an intelligently designed and technologically advanced glass solution that is making its way into almost every modern building that you can think of. Architects and designers are using it in such a way that it provides ample light for your room without compromising your privacy. Different types of privacy glasses have numerous applications in different industries ranging from home decor to hospitality. If you are new to architecture then given below are some of the best applications of privacy glass that you can find right now.
Walls and Partitions

One of the most popular applications of privacy glass is in walls and partitions. It can be used in homes as well as offices as these transparent or translucent glass walls lends a rich decor as well as a suave feel. Privacy glasses have replaced the wooden partitions in most offices with privacy glass office pods as these are easy to install, versatile and easy to clean. One of the most popular types of privacy glass for walls and partitions is Smart glass. Smart glass turns from regular transparent glass to opaque or translucent with just a push of a button.

Public Restrooms

This is one of the latest and most innovative uses of privacy glass are the public restrooms installed by the Nippon Foundation during the 2020 Olympics. Using glass for the walls and doors of a public restroom seems bizarre but once you look at it, you will be amazed by the creator's innovation. The walls of these public restrooms are made from switchable privacy glass that is transparent when not in use so the people outside can check its cleanliness. Once the door is locked, the transparent walls immediately turn opaque, so people can do their business in private.

Diffused Lightings

Frosted glass is a type of privacy glass that is made by acid etching on one side making the clear glass sheet translucent on one side. Frosted glass (being translucent) diffuses the light that falls on it resulting in improved lighting without risking your privacy. You can buy frosted glass in different colours and give your house a new makeover without spending a ton of money. Frosted glass significantly decreases the number of UV rays entering your office or household while also aiding your house's cooling making it one of the best glass solutions for house and office windows.

Windows and Skylight

Windows and skylight are the gateways for light to enter your house while keeping the extreme hot or cold winds from entering your household or office. One-way privacy glass is made by applying a thin reflective coating on one side making it transparent on one side (indoor) and reflective on the other (outside). Modern-day houses and offices are being installed with one-way privacy glass windows as these windows let you enjoy the outside view while also obscuring the insides of your house from any intruding gaze of outside people.

Hospitality

Privacy glass is extensively used in restaurants, bars, pubs, clubs, business centres and many other hospitality establishments. It adds to the place's aesthetics and privacy by allowing light to pass through it. Switchable privacy glass is one of the most popular privacy glasses used in hospitality and has replaced blinds and curtains quite elegantly and efficiently. Frosted glass is another type of glass used in restaurants, bars, clubs and other hospitality establishments thanks to its ability to diffuse light giving the place a calm and aesthetic look. These glasses are not only hygienic and easy to clean but also attractive.

Conference Rooms

Conference rooms are another great application of privacy glasses. With privacy glass, you can make an impression on your clients as well as employees without spending a ton of money compared to regular glass. These glasses are used for the windows, doors and walls of the conference room. The two popular privacy glass choices are one-way glass and switchable glass as they provide ample lighting to your conference room while also providing privacy for all your important meetings and conferences. You can even get one that's soundproof preventing sound leakage.

Home and Office Decoration

Last but not the least, home and office decor is another great application of privacy glasses. Textured glass, Smoked glass, Coloured glass and Etched glass are some of the most popular privacy glass choices for home and office doors. Sculptures made of painted glass are installed in offices to impress clients as well as boost the morale of your team. You can also see painted glass being used in churches and other public places to enhance the aesthetics and give the place a calm vibe.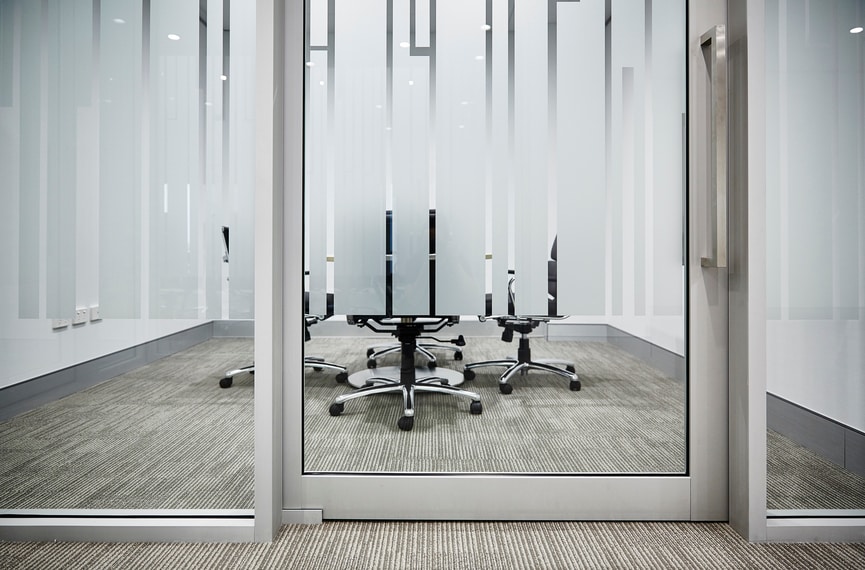 Now that you know what privacy glass is and where it can be used, you are now ready to equip your home or office with it and enhance its lighting while also making sure everything inside your home or office is as secure and private as it can be.