What is a glass façade?
Simply put, glass wrapping the exterior of the building is a glass façade. These building façades are regularly used in modern-day building designs due to their simplicity and the length and breadth of design applications.
These building façades add glamour and enhance the style quotient of the whole building. However, glass façades are not just used for the purpose of visual aesthetics, it is also rich in functionality such as excellent sound and heat insulation.
But if you are a bit lost on which types of glass façades you should choose for your construction project, a client or even your own home renovation, we have got you covered. Here is a curated list of façades and glasses that are available for you to achieve that perfect balance of aesthetics and functionality.
Types Of Glass Façade
Curtain Wall Façade
These are curtain-like structures, that are non-load bearing, and are attached to the floor of the building in which the façade is to be incorporated. Curtain Wall Façades have to support only their weight and not the dead load weight which is put on by the building.
A connection exists between the curtain wall and the building's columns and floors so that the weight of the wind can be transferred from the façade to the building itself.
Storefront Curtain Wall Façade

It is a non-load-bearing façade that is primarily designed for ground floors. It is usually built between the ground and the roof of the building above it.

This building façade offers optimal thermal and sound insulation if it is constructed using specialised glasses. It can be easily customised and is quite cost-effective.
Framing Façades
Unitized Curtain Wall

This type of curtain wall is Composed of large units that come already assembled and glazed from the factory itself, before shipping to the building site for installation.

As unitized curtain walls form the core component of the exterior of the building, they are made to enhance thermal efficiency, sound transmission and fire safety.

Semi-unitized Curtain Wall

A semi-unitized curtain wall is a type of structural glazing where the primary structural framing components are erected individually as an erector set. The vertical mullions in these sets are attached first to the floor slabs and then the horizontals are attached to the vertical mullions to resemble a grid.

Frameless Façades

Frameless Façade systems are quite common in modern-day architectural glazing. The reason why this system is preferred, is that frameless glazing offers huge potential within architectural glazing design. This type of glazing is an excellent way of maximising natural daylight.

Tension System

To create these façades, high-tensile cables or stainless-steel rods are used to impose the load of the façade on the main structure. Doing this increases the transparency of the façade. The two main types in the industry are tension rod façades and cable net walls.
Types Of Glass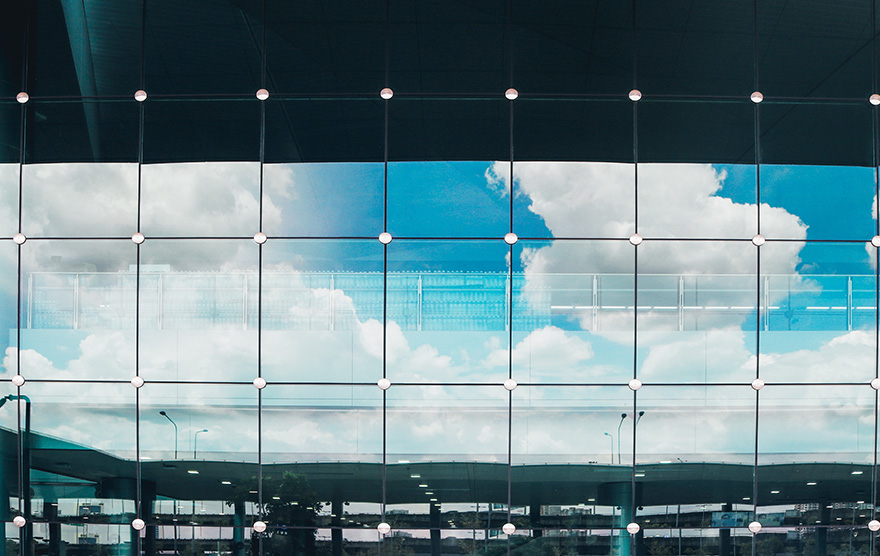 Laminated glass

It is basically layers of ordinary glass stacked over each other. It is much heavier and tougher than compared to normal glass. They are thicker and provide robust protection from UV rays as well as great insulation from outside noises.

Toughened Glass

This is a more durable form of glass as compared to others. It is available in various thicknesses providing different levels of toughness. It is also known as tempered glass. This type of glass is ideally used for fire resistance.

Insulated Glass

This type of glass consists of two or more glass panes that are separated by a thin film of air. This allows for the heat to dissipate more effectively making it a great choice for insulation.

Solar Control Glass

This type of glass is designed specially to reduce the amount of heat getting into a building space. It does so by absorbing the heat from the sun's rays when it falls on the glass panels.

Tinted Glass

These not only serve an aesthetic purpose but when the sun hits it just right, but it also works as an excellent insulator.
Find the perfect façades with AIS
Manufacturing high-quality glass products for diverse applications has been our speciality for over 3 decades. In that time, we have refined our craft to a degree which has made us the leading glass solutions provider in India.
At AIS Glass we manufacture high-quality toughened glass to build durable and elegant façades with contemporary styling. Our solutions are customizable as per different customer needs. Get in touch with us and enjoy our wide range of solutions.