Everyone in the world visits the office every day, which is obviously a dull place to be. It can sometimes seem boring to work every day in the same spot while seated in a corner. However, imagine how great the office setting would be if there were fascinating decorations everywhere.
Customers and staff both value good office design. So, we can say that it is quite important for you to make sure that an office looks professional yet attractive, and trendy yet decent so that all the employees and workers don't find the environment around them monotonous to work in. Moreover, a work environment will help in enhancing the productivity and efficiency of the employees as well. For clients, an office's aesthetic sets the atmosphere for the company and conveys competence, success, and the brand.
According to polls, staff perform better in a pleasant setting than in a drab office. Some of the best concepts for making the office a pleasurable place to work exist. By going with the design-and-build method of procurement, one of the simplest ways to improve your office is to save time and hassles.
Interior Glass Decor: Top Ideas For Commercial Spaces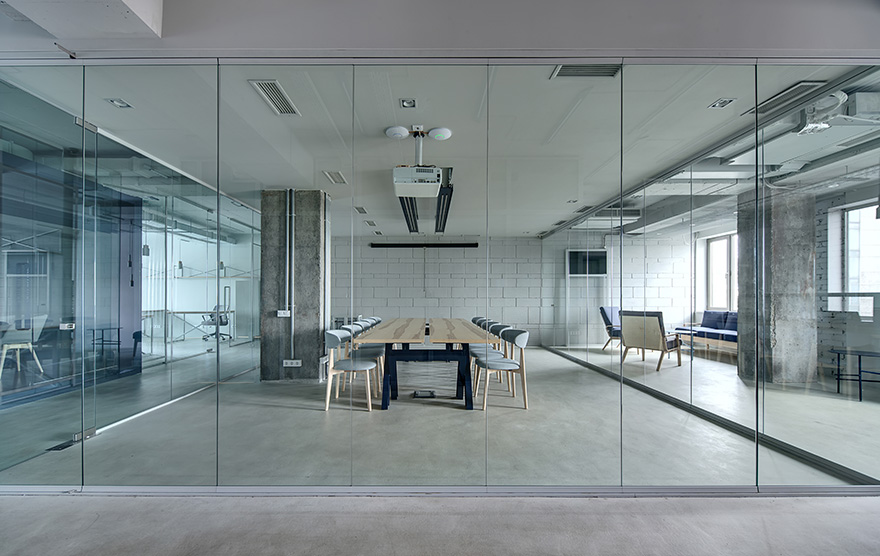 Would you all agree if we say that glass is one of the best materials that can contribute to your home and office interior decor? Well, of course, it is one of the materials that are most frequently used in the construction sector. The different varieties of glass that are offered on the market satisfy the needs of diverse clients, making it one of the most adaptable materials.
Tinted glass can prove to be a great option. Oxides are added to float glass to create tinted glass. Bronze, grey, dark grey, green, blue, and coloured are the most common colours utilised, but many additional hues, including red, pink, and violet, can also be produced. When various metal oxides are combined with float glass, it takes on a variety of colours. This doesn't mean that it changes any of the original features of the glass. But, it does lead to one change and it's that it doesn't transmit heat and traps solar energy because of its hue.
AIS Decor offers a fantastic range of lacquered glasses that you can install in your interiors. The smooth finish, colourful range of options, and stunning designs can truly bring your space to life. What makes this line particularly versatile is that it includes 34 stunning shades that can be used to augment your decor. Here are a few examples of the same, along with the series they fall under:
Serene Series: Pastel Green, Sparkling Soft Blue, Turquoise Green, Tiffany Blue, Sparkling Ivory, Orange Crush, Sparkling Beige, Sparkling Blush Pink, Sparkling Off-White, and Lavender
Metallic Series: Sparkling Mystic Gold and Sterling Silver.
Earthy Series: Stone Grey, Black Pearl, Sparkling Beige Grey, Urban Grey, Earthy Brown, Sparkling Walnut Brown, Hazel Brown, and Terracotta
Vibrant Series: Venetian Red, Nile Blue, Azure Blue, Bright Green, Ultramarine Blue, Miami Blue, Autumn Orange, Chrome Yellow, Sparkling Coral, Spring Green, Sea Green, and Amazon Green.
Pure Series: Sparkling Snow White and Snow White.
Here are some gorgeous interior glass decor and design ideas to use in your office to give it a sophisticated look:
Back-painted glass tables

Working with back-painted glass is enjoyable. The back-coloured glass design is clever because of its features, even though the glass may be stylish for decorative purposes. For example, white glass can be used as a cabin divider in an office environment to provide a classy, smooth, and tidy surface. A gorgeous welcome desk in a business office is made of glass that is copper-coloured.

Put some glass showpiece

Glassware is a wonderful method to improve the appearance of your decor. Additionally, it reveals the nature of the individual to whom the organization belongs. You can add vases, chandeliers, and other decorative items to strategic locations in your business. As it offers a refined visual effect, you can also add little features like making door handles out of glass or other materials.

Make glass walls for rooms

Glass has recently emerged as one of the various design options for workplace backsplashes. Indeed, they infuse the room with unquestionable charm wherever they are placed. Glass backsplashes have the ability to reflect light, which brightens the entire space. The interior decoration of your room will be elevated by the addition of an office-coloured glass backsplash, which will give it a modern appearance.

Glass partitions near the work area

With glass partitions and warm ornamental glass walls, contemporary office designs and conference room décor may enhance interiors with inventiveness and a sophisticated vibe. You may significantly alter the external and interior designs of your office by using glass as décor. Glass décor, internal doors with glass, and partition walls let in more ambient daylight and create eye-catching touch in the office.

Since clear glass partitions are intended for use in offices, they have undergone a number of quality examinations that attest to their overall durability. They also improve the polished look of the office because they are clear. According to your needs, AIS Glass guarantees to give you any internal doors with glass that are of the highest quality.
Why Choose AIS?
In an attempt to take out the best attributes of glass, if you choose to use it to give the interiors of your workplace a more polished 3D effect, you must use a competent solution. And we are glass experts. AIS Glass Ltd is a leader in the field when it comes to providing you with cutting-edge inventions and dynamic glassware technology.
At AIS Limited, we are proud to provide our customers with premium, ultra-transparent glass. Since our business establishment in 1984, we have expanded to become India's leading glass company in the construction and automotive industries. So, if you're searching for the best company to contact for all of your clear glass requirements, you can be confident that whatever you order from us will be flawless.
This expert service offering from AIS Glass Ltd integrates a comprehensive strategy with specialised glass experience. To satisfy your demand for modern, ecologically responsible aesthetic appeal, we provide a wide selection of excellent, high-quality, recognised glass items, fittings, and systems with the assured security and hassle-free procedures.
Moreover, you should consult our specialists about the kinds of glass you may use in your workplace design or makeover to make it stand out. We provide back-painted glass, lacquered glass and highly-durable clear glass; you can combine the two to design a distinctive office environment. Get in contact with us right away if you want to improve the look of your office and design a setting that fosters innovation and high output and gives it a refreshing and attractive appearance.